2015-20 Mustang Under Body Parts
One of the keys to a great sounding and high performing Mustang is finding and installing a good Mustang Exhaust. Pony Parts has spent some time in reviewing the many exhaust systems on offer and selected the best system Ford Racing has to offer. Once you make this upgrade, enjoy your Mustang's fantastic new sound as you cruise your favourite roads.
At the urging of our customers we also sell the Ford Performance Mustang Track handling pack and to give that final finish to your Pony install the GT350 Close out panel diffuser.
At Pony Parts we continually evaluate new products as they become available and only sell the best quality parts to ensure the Australian Pony's are the best equipped in the world.

Ford Racing Mustang 2.3L Ecoboost Sport Muffler Kit SPRING SALE
$1,610.00

($146.36 GST inclusive)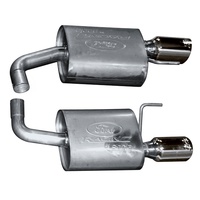 Cant find what you're looking for? Send us a message