A Bullitt Bonanza - Goodwood 2018
Author: Alan Porter Director Pony Parts Australia Date Posted:8 August 2018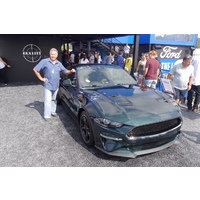 Bullitt. - Bullitt - Bullitt , yes that's right 3 of them which I saw just a couple of weeks
Ago at the Goodwood Festival of Speed in the UK, which I had the good fortune to visit while I was visiting family and friends in London.
Wow, what an awesome sight Ford UK had Two brand New PRE-production 2019 50th Anniversary Steve McQueen Bullitt's on display. One in their display Tower on the 3rd level, open to the public to touch, sit in, do gear shifts etc, etc. The metallic "dark highland green" finish looks awesome , reminiscent of the mid 60s GT Falcon color option , (one of my favorites) . Under the bonnet the GT 350 induction system looks a treat , very business like . The only thing needed here is a decent set of exhaust headers to complete the package .
The second one was in a display at the "First Glance Paddock" along with many other new OEM exhibits
The real treat for me was it was parked alongside the original Steve McQueen Movie Bullitt Car, now just over 50yrs old and in very original rough condition, which adds to the character, charm and unique heritage - truly amazing that the car still exists!
The real bonus was the opportunity to meet and talk with the cars owner Sean Kiernan and his lovely wife.
What a treat, a real down to earth, delightful guy. Left to him by his late father Robert, who had kept the car hidden away from public view for around 30 odd years in fear of it being stolen.
Sean could tell me of the relief , being able at long last to display this truly remarkable car and to reveal his true personal passion for Motorsport & Muscle Cars.
One of his recent visits was to Fords Flatrock production plant to see the 50th Anniversary Bullitt's come off the production line, with LHD and RHD being built randomly, a real treat to see I'm sure.
The first production Bullitt was offered to charity to be auctioned by 'Barrett Jackson 'AZ
with all proceeds going to the "Boys Republic" a foundation for troubled youths in CA. Supported by Steve McQueen, who as a troubled teenager himself had been fostered there.
The 2nd Production Car, Sean could tell me had been assigned to himself, wow, I asked if he would keep it for his kids??? HE wasn't sure?
By way of interest I was advised that the U.K. Would get approx 300 Bullitt edition Mustangs while Australia would get 700, arriving in 3 batches the first being Oct/Nov this year.
Apparent Ford UK was offered the GT350 as a RHD, but knocked it back, so that was the end of any chance for it in Australia.
Australia now has priority of RHD Mustangs, over the U.K. With Australia receiving about 3 to every 1 for the U.K.
Something else I noted, with the U.K. Population 3 times larger than Australia - I did not see 1 Mustang driving on roads, only 1 GT parked street side.
As a footnote, at the time of Steve McQueens passing he was Hollywoods highest paid Actor! But that's another Story!