Mustang Spare Wheel Product development
Author: Phil Date Posted:2 August 2018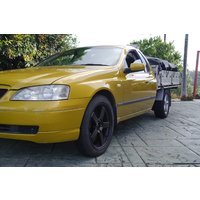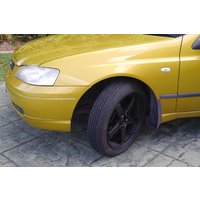 Mustang Spare Wheel Solution
Pony Parts Australia reveals product development road test/trials for their unique Mustang Spare Wheel solution .
Over the past several weeks Pony Parts Australia has conducted its own in house testing of their unique Mustang Spare Wheel Solution .
The result of over 12 months of product development , design and sourcing suitable manufacturers for alloy wheels , tyres , scissor jacks and wheel brace (lug wrench)
The final choice was a 19" 5 spoke alloy rim that would clear the GT Mustang Brembo brakes , accept the OEM wheel nuts and fit completely under the boot floor panel .
Numerous tyres were sourced and underwent preliminary tests before the final selection was made , a tyre that would withstand city , highway and harsh Australian
Only one tyre was found that ticked all the boxes , with a load rating index of "113" at 1150kg (2500lbs)and a speed rating index of "Q" at 160kph (100mph)
To fast track trials the spare wheel assembly was fitted to a local tradies 1 ton work ute for his every day work use and abuse .
Instructions to (there weren't any really) Kevin who kindly made his work horse available were to carry out his daily work routine without any care or special consideration to the Pony Parts Australia spare wheel fitted to the front RHS of his trusty work ute .
The front RHS location was selected as this would experience the worst possible road conditions. , with roadside rough edges , potholes etc .
His
daily work required all types of road conditions as his work area included city and rural sites , including 200km highway trips with continuous speeds up to 130kph (80mph)
After just over 2000km (1400mls) our tradie test driver Kevin reported he had no sensation of the spare on the front LHS .Daily loads of up to 800kg (1800lbs) of tools and materials were the norm . The spare wheel didn't receive any cautious or careful driving .
End result , the road test trial ticked all the boxes , no undue wear or stress visable anywhere !
Complimented with an OEM style scissor jack and wheel brace Pony Parts Australia Spare Wheel Solution will give you peace of mind as a safe , reliable heavy duty spare ready to meet any condition thrown at it !
Contact the friendly team at Pony Parts Australia, we'd be pleased to assist with any additional information