Pony Parts Australia Media release
Author: Phil Croughan Date Posted:11 May 2016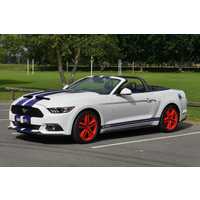 Pony Parts Australia Media release
Pony Parts Australia offers Mustang owners unique new service to 'personalise your ride'
Pony Parts Australia is the newest kid on the block for Mustang owners looking to customise and personalise their ride with genuine US Mustang accessories and after market parts down under.
Established by two 'big kids' who after trying to customise their own Mustang's in retirement, started importing quality genuine aftermarket accessories into sunny Queensland. Realising Mustang dress-up accessories were not available locally in Australia, combined with a 60-year passion for US muscle cars and love of Aussie motorsport, Pony Parts Australia was born.
With Pony Parts Australia imports of quality aftermarket accessories direct from US Manufacturers, you can transform your 'pride and joy' in the tradition of racing legend Carrol Shelby. Whether you are personalising for race or street use, Pony Parts Australia can help.
The first of five concept cars showcasing the Pony Parts Australia's services has already hit the streets of The Sunshine State, and more to follow over the next 18 months (or as soon as Ford Australia can deliver). The first 'demo' car from Pony Parts Australia was turning heads at the Queensland Auto Spectacular at Willowbank last month. Keep an eye on the stable door in June for Pony Parts, Pony Express 002 GT Convertible sporting the latest ideas and concepts for Mustang customisation.
There is no need to settle for a stock standard drive, Pony Parts Australia offer a unique new personal service to help you create your dream Mustang. Give us a call today on (07) 5471 6705, check us out on Facebook or visit www.ponyparts.design.